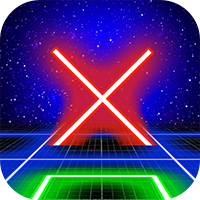 AWESOME FEATURES
First, it has awesome explosions and fireworks. Lots of 'em.
Second, it includes bigger boards to play on than just the standard 3×3 grid. Take your gameplay to the next level with 5×5 and 7×7 boards. Go extreme.
Third, our computer player rocks. It uses a predictive matrix combined with lots of mathematical goodness to give you a balanced fun game. It even talks to you with a sassy computerized robot voice.
The best news of all is this game is FREE and all future updates will be FREE too. Here's the list of full features:
One or Two Player with 12 Levels of Computer Play
Play Classic 3×3 Tic Tac Toe where 3 in a row wins
Play 5×5 Pro Board where 4 in a row wins
Play 7×7 Extreme Board where 5 in a row wins
Awesome glowing graphics and animations
Killer fireworks, explosions, sounds, and music
Game Awards – Classic Winner, Pro Winner, Extreme Winner, 2 Way Win, 3 Way Win – Collect them all!
Winning Photo – Share directly to Facebook, Twitter, or E-mail
Universal iOS (iPad, iPhone, iPod touch)
Retina Display Graphics (iOS)
Game Center Achievements (iOS)
Google+ and GameCircle Achievements (Android)
Android phones and tablets
HOW TO PLAY
Tic-tac-toe, also called noughts and crosses and X's and O's is a pencil-and-paper game for two players, X and O, who take turns marking the spaces in a 3×3 grid. The X player usually goes first followed by the O player. The player who succeeds in placing three respective marks in a horizontal, vertical, or diagonal row will win the round. Win 3 rounds to win the game.
SCORING
You can get huge score bonuses to boost your score to the top of the Leaderboard. You will receive an initial score based on a number of moves and the time it took to win. Each day you play, your score is multiplied by the number of days up to a maximum of 5. Each consecutive game you win, your score is multiplied by the number of wins up to a maximum of 5. That means when combined you can make your final score up to 10 times bigger!
PRESS COVERAGE
"Three different Tic Tac Toe variants, sharp computer opponent, wisecracking A.I., slick neon graphics and fireworks, two-player support, free."
— Chris Buffa, MODOJO
"I was pwnd quite a few times playing Tic Tac Toe Glow"
— Ant Pruitt, aNewDomain.net
CUSTOMER REVIEWS
"It makes parts of my body tingle!"
— Hunter Graham
"I love it when the ambiguously European female robot voice asks me 'can we play again?'"
— Jeff Brown
"About as addicting as any drug you could ever have"
— Anonymous
"Never thought Tic Tac Toe could be reinvented, but it has!"
— Chad In Spokane
"It is very challenging, reminds me when my grandfather would beat me as a kid."
— Scott Shorter
"This game puts the F U in FUN!"
— YouLightUpMyLife1