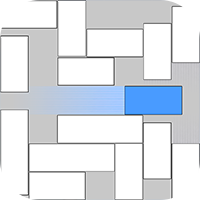 Blockatraz is a fun new spin on the classic Klotski, or better known as "sliding block", style of puzzle game. This game will challenge you to move blocks out of your path so you can escape to freedom!
Game Features
⋆ Hundreds of puzzles spanning across Small 5×5, Medium 6×6, and Large 7×7 layouts
⋆ Includes a tutorial to help you get started on your escape
⋆ Modern yet simple and relaxing interface
⋆ Original music and sound effects
⋆ Supports all iOS and Android phones and tablets
⋆ It's a free game!
How to Play
⋆ Slide the blue block from left to right in order to escape the current room
⋆ Move grey blocks either horizontally or vertically in order to clear a path for the blue block
⋆ Escape all rooms to win the game!
Can you escape from Blockatraz?