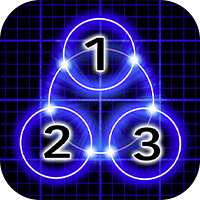 Glow Burst has been featured by Google and Apple! Glow Burst requires a sharp mind and a quick touch. Pop the glowing numbers as fast as you can from least to greatest. Each glow burst earns you points and extra time. Swiping through multiple numbers in a single swipe earns you bonus points. It sounds simple but be warned that it is very addicting.
Features
123, Easy, Medium, and Hard Levels. Perfect for kids and adults!
Game Center Multiplayer, global leaderboards, achievements.
Swipe through multiple Glow Pads to earn even more points.
Full Retina resolution for iPhone 5, 6, 6+, and iPad Air.
Helps to learn number sequences with introductory 123 mode.
Glowing graphics with cool animations, sounds, and explosive fireworks.
Each round gets harder and will challenge all age groups.
Background music that speeds up as time decreases for a little added stress.
PLAY STORE FEATURED
Glow Burst was featured as a New Game by Google in the Play Store starting February 19, 2015.
APP STORE FEATURED
Glow Burst was featured as a New and Noteworthy iPad Game by the Apple iTunes App Store starting the week of April 3rd, 2010.