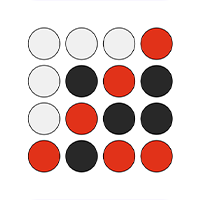 Features
One or Two Players – Play against a friend or the computer.
Multiple Rounds – Win 3 rounds to win the game. Total rounds needed to win is configurable in the settings.
Computer Difficulty – Play against computer with Easy, Medium, Hard, Pro, and Expert difficulty.
Game Center Achievements – Collect all 5 by beating the computer player on each difficulty level.
Statistics View – Displays game stats and awards.
Game Center, Google Play,GameCircle Integration
Multiple Themes – Switch the color scheme to Modern, Classic, Night, Retro, and Hot.
Classic Board Size of 7×6 (7 columns, 6 rows, 4 chips in a row wins)
Realistic sounds effects and smooth animation
It's a free game!
How to Play
Select One or Two Players to start game
Each player takes their turn by tapping a column on the board to drop a checker
Round finishes when a player gets four in a line or there are no more moves
Tap the screen to play again
Win 3 rounds to win the game
We hope you enjoy playing Connect Fun with friends and family. Connect Fun is also known as Captain's Mistress, Four Up, Plot Four, Find Four, Fourplay, Four in a Row, Connect Four, and Four in a Line.